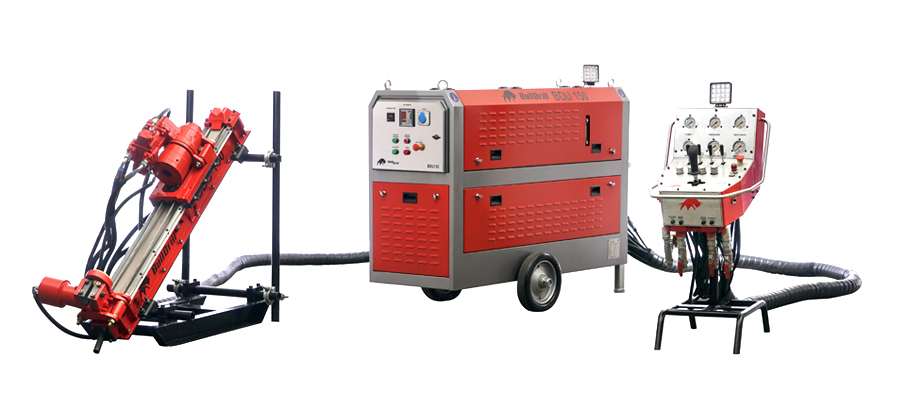 BULLDRILL® REGISTERED TRADEMARK OF BARKOM
The BULLDRILL® brand, which was created by Barkom Grup and officially registered in 2013, was used for the first time in the company's own portable drill rigs and portable sludge mixer. The brand which has received positive feedback from its customers has also been decided to be used in underground drill rigs that are designed and produced by Barkom Grup.

Barkom Grup has further expanded its product range with underground drill rigs that were started to be produced in 2015 upon the high demand from its customers. The, BDU150, BDU400, BDU600 and BDU800 drill rigs have been specially designed by Barkom Group to provide different advantages in underground mine galleries and tunnel works. By using a powerful electric motor and high quality hydraulic equipment, the field life and performance of the rigs have been increased. The first prototypes subject to intensive factory and field tests were developed for conformity to CE certification and finally CE certified machines have been started to be produced in compliance with EN ISO 12100: 2010, EN 600006-2: 2005, EN 61000-6- 4: 2007 + A1: 2011, EN 16228-1: 2014, EN 16228-2: 2014 standards.

Bulldrill drill rigs that were sold for the first time in 2015 have won customers 'appreciation in a short time and they are currently used throughout Turkey and abroad. One of the biggest factors behind the success of Bulldrill drill rigs is the Barkom Group service department. Service department, which provides 24/7 hours consultancy services to its customers and intervenes rapidly in the field when required, minimizes the loss of business related to the failure.
UNDERGROUND DRILL RIGS
TECHNICAL SPECIFICATIONS
BDU150
BDU400
BDU600
BDU800
Main Application
Underground Exploration
Underground Exploration
Underground Exploration
Underground Exploration
Drilling Method
Core Drilling
Core Drilling
Core Drilling
Core Drilling
DRILLING DEPTH CAPACITY  (m)
AW
150 m
*
*
*
BWL
*
600 m
800 m
1000 m
NWL
*
400 m
600 m
800 m
HWL
*
*
400 m
600 m
PWL
*
*
*
250 m
Feed type
Rotary Head Overhead Feed
Rotary Head Overhead Feed
Rotary Head Overhead Feed + transmission box (4 gear)
Rotary Head Overhead Feed + transmission box (4 gear)
Pull force
2 ton
8,5 ton
10,5 ton
10,5 ton
Max. rod size
48 mm
78 mm
90 mm
90 mm
Engine Power (electric Engine)
30 kw/ 40 HP
55 kw/75 HP
75 kw/100 HP
90kw/120 HP
Carrier Option
Skid
Skid/ Crawler
Skid/ Crawler
Skid/ Crawler
DIMENSIONS AND WEIGHT
Height
750 mm
2100 mm
2100 mm
2350 mm
Mast Height
1250 mm
3000 mm
3000 mm
4400 mm
Length
1500 mm
4000 mm
4000 mm
4550 mm
Width
700 mm
1700 mm
1700 mm
2200 mm
Weight  (kg- ton)
255 kg
4 ton
4 ton
8 ton